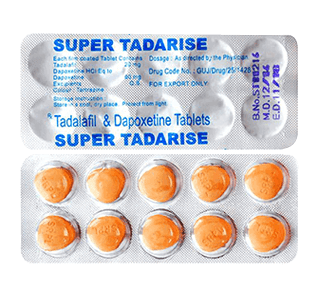 Super Tadarise
Super Tadarise tablets are a dual action medication that is effective in treating both erectile dysfunction (ED) and premature ejaculation (PE). Ingesting one Super Tadarise pill has proven to significantly improve the ability to obtain and sustain a firm erection and prevent early ejaculation. A single tablet should be taken with water between 1 to 2 hours before sexual activity.
What are Super Tadarise tablets?
adarise tablets contain both tadalafil and dapoxetine. Tadalafil is responsible for treating erectile dysfunction (ED), and dapoxetine prevents premature ejaculation (PE). Many men opt to use this medication because it provides effective relief from two ailments in a single dosage, whilst being affordable. Dapoxetine takes slightly longer to become entirely effective so this medication needs to be taken 1 to 2 hours before sexual activity.
Understanding how these Tablets Work
One ingredient in Super Tadarise, tadalafil, acts as an inhibitor of the phosphodiesterase type-5 (PDE5) enzyme. By inhibiting PDE5, another enzyme called cyclic guanosine monophosphate (cGMP) can accumulate. This causes blood vessels to dilate resulting in enhanced blood flow so an erection can form. The other ingredient, dapoxetine, provides relief from premature ejaculation by acting as a selective serotonin reuptake inhibitor (SSRI). This increases the amount of time it takes for a user to climax during sex and provides more control over ejaculation.
The Advantages of Super Tadarise tablets
hrough the combination of tadalafil and dapoxetine, these tablets provide effective relief for ED and PE. These conditions are common, especially for men of certain ages. Causes of ED and PE encompass a broad spectrum of sexual, psychological and biological issues. However, due to the emotional and sensitive nature of the topic, PE and ED are rarely discussed. These tablets are designed to improve sexual and reproductive health, confidence and overall wellbeing.

Buying Super Tadarise online is affordable and costs a fraction of the cost paid at a regular pharmacy, which means that it is more accessible to more people in more places. There are also no potentially embarrassing conversations with pharmacy staff. Super Tadarise tablets reviews suggest users enjoy the great benefit of a prolonged effect of up to 36 hours, giving ample time for sexual activity and intimacy.

People who buy Super Tadarise tablets can also rest assured that this medication is not addictive. Tadalafil has the longest durational efficacy of all the medications that are used to treat ED. With a 36 hour duration of effect, the user does not need to worry about timing when to take it. This allows patients and their sexual partners to enjoy intimacy at a natural time.
Super Tadarise Usage Instructions
A single tablet should be taken, preferably on an empty stomach, 1 to 2 hours prior to sexual activity. The tablet should be taken whole with a glass of water and limited to one tablet within a 36-hour timeframe.
Precautions when Using this Medication
adalafil and dapoxetine tablets are usually well tolerated by most people. Like most medicines, side effects are possible, especially if you suffer from certain medical conditions or if it is mixed with certain substances. It is advisable to seek medical advice if you have had prior health conditions such as:
Uncontrolled high or abnormally low blood pressure
Liver or kidney disease
Retinitis pigmentosa
Sickle cell anaemia
he tablets should not be ingested or mixed with the following substances:
Recreational drugs
HIV medication
Other erectile dysfunction medication
Certain anti-fungal medication
Some antibiotics
Nitrites
Alcohol
Side Effects of Super Tadarise tablets
hese tablets are usually well tolerated and have a high success rate among users. However, unwanted side effects may occur in a minority of users. The more common side effects may include:
Headaches
Upset stomach
Stuffy nose
Flushing
Dizziness
Note that following the correct dosages applicable to your health status and condition as well as following usage instructions will minimise your risk of experiencing side effects.
Expert Advice for Safe Usage
aking this medication is straightforward; however, there are some helpful hints that can help users gain the maximum usage benefits:
Carefully read the usage information and follow the correct dosage before ingesting the medication.
Stay hydrated when taking this medication, and consume it on an empty stomach to fully experience its effects.
Sexual stimulation is required as Tadarise tablets are not an aphrodisiac.
Do not take this medicine if you do not have ED or PE.
Grapefruit juice should be avoided as it can increase the likelihood of adverse effects.
Avoid this medicine if you have any prior health conditions that may be aggravated.
Buy Super Tadarise tablets online
It is easy and convenient to buy these tablets from our secure online pharmacy. We value your privacy, and all orders are dispatched quickly and efficiency. The medication is licenced with the relevant authorities and tested for both safety and quality. Super Tadarise provides an affordable and effective solution, which can improve your relationship, increase confidence and deal strongly with these treatable sexual conditions.